Many people suffer with dry skin on their feet but are unable to reach their own feet to apply foot cream. There are various reasons for this, as we get older we may find that we are not as flexible as we used to be, it could be that you are recovering from an injury or surgery, and physically cannot reach your feet. If you haven't got anyone who can apply cream for you, there are other solutions:
You can now get spray moisturisers; one such spray is listed in the foot care aids section below.
You could use a long handled applicator, one example is listed in the foot care aids section below, or alternatively, you could try applying using a long handled spoon.
Another easy solution is to put some moisturising cream in a carrier bag or a plastic bowl, place on the floor and then put your feet in the bag or bowl and rub away. Try using the sole of one foot to apply to the top of the other foot, so that all areas of the feet are covered.
I would suggest that the best time to use these creams is at bedtime, so that the moisturiser can sink into your skin overnight. As some of the creams have quite a thick consistency, I would not recommend using them in the morning because of the risk of slipping/falling if the soles of your feet are covered in cream.
Equally, cleaning and drying your feet thoroughly, particularly between the toes and keeping on top of the hard skin that builds up is difficult when you are unable to reach them. The section below is a selection of aids that can be purchased online to assist with foot care.
Recommended tools
The following section provides some examples of self-help aids that can assist with your foot care needs. The selection provided gives examples only, other brands are available and we are not advocating any brand in particular. The descriptions given are manufacturers product details.
Long Reach Folding Pedicure Foot Scrubbing Brush
Very useful for people with limited access to their feet, this tool is designed to assist with access to all areas of the foot. The silicone brush softly scrubs tops of toes, the short bristle brush is good for scrubbing the back of the foot and the pumice stone helps gently smooth away rough skin. The rubberised handle gives an improved grip when wet and the brush conveniently folds for easy storage on the built-in hook.
Available from:
https://www.nrshealthcare.co.uk
Product Code: P05127
Customer service: 0345 121 8111
Long Handled Toe Washer
With the Long Handled Toe Washer, the need to stretch and bend is greatly reduced and thanks to its long and easy to grip rubber handle, the process is made simple and effective. The uniquely shaped sponge enables you to effectively wash in between your toes.
Available from:
https://www.nrshealthcare.co.uk
Product Code: L63630
Customer service: 0345 121 8111
Towelling Toe Washer
This simple yet effective towelling toe washer features an easy to hold handle with a flat wire that provides you with extra reach. With a white towelling pad for on the end, it enables you to effectively wash between your toes in the bath or shower. Reduce the need to bend with this handy shower aid that can be bent to a shape that works for you and comes with two pads.
Available from:
https://www.nrshealthcare.co.uk
Product Code: M09836
Customer service: 0345 121 8111
Easy Grip Long Handle Foot Brush
This Foot Brush is ideal for people who have difficulty bending down to wash their feet in the bath or shower.
At 68cm long it allows you to clean your feet without straining, which is great for people with limited mobility in the back, hips or arms.
This brush has a ridged handle to make it easy to keep hold of even when wet. The nylon brush allows you to scrub feet and toenails, and the replaceable foam tip is great for washing or drying between toes. Plus it has a string looped onto the end to allow you to hang it up in the shower so that it is always to hand when you need it. You will receive 2 replacement sponge tips with your foot brush but you can buy more
Available from:
https://www.stressnomore.co.uk
Product code SKU 92426
Customer service: 01482 496931
In-Shower Foot Scrub and Pumice Stone Combination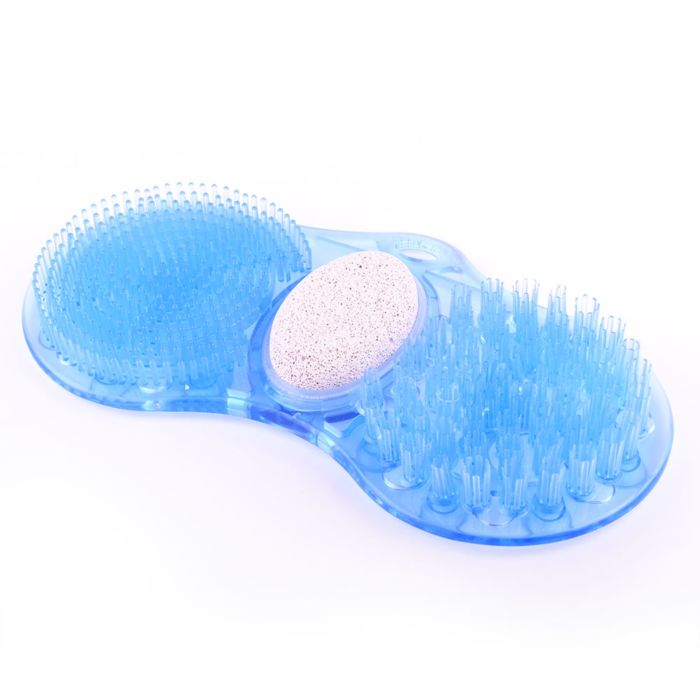 For those who cannot bend to give their feet the care and attention they need, this shower pumice stone and scrubber combination is a fantastic addition to the bathroom. It features a firm rubber bristle pad on the right and a beautifully soft and longer rubber bristled pad on the left, with a coarse pumice stone in the centre to really scrub away dead skin and impurities.
You can do this whilst standing in the shower or sitting on a shower stool. The base of the pad is adorned with strong suction pads that keep it firmly in place as you scrub your feet to perfection! This is a fantastic product for older people who cannot reach their feet or who lose balance easily in the shower, for those who are suffering physical ailments or injuries such as arthritis, sciatica or hip problems; and for women in the later stages of pregnancy who cannot reach their feet.
Available from:
https://www.stressnomore.co.uk
Product code SKU 12889
Customer service team: 01482 496931
Rosenice Cotton Swabs, Pack of 100, Long Wooden Handle,
Dimensions: Approx. 15 x 0.5 x 0.5 cm (L x W x H).
Hygienic cotton and high quality wooden material for safe use on face or body.
Sturdy wood stick is not easy to break.
Cotton tip for safe and comfortable use.\
Available from:
https://www.amazon.co.uk
The new toe towel designed to clean and dry between all your toes…30cm long handle
Designed to clean and dry between all your toes to remove dead skin and Germs which cause itchy, sore toes and discoloured toenails *Detachable Towel Bag can be washed and replaced, Buy new Towel Bags at Amazon *Designed by a Podiatrist *30cm long handle for people with reduced mobility.
Available from:
https://www.amazon.co.uk
Lotion / Cream Applicator for your Back, Legs, Feet
This brush is fitted with a 43 centimetre long, curved handle, enabling you to hit all the hard to reach nooks and crannies of your back, legs, and feet. Perfect for individuals recovering from sports injuries and the elderly.
Available from:
https://www.amazon.co.uk
Neat Feat Spray On Foot & Heel Balm
Highly effective solution for cracked and dry heels
Easy to apply with a non-oily formula
Contains urea to maintain natural balance of the feet
Creates a lasting dry film over the affected area
Ideal for use at night for smooth, hydrated feet in the morning
Fitted with a 360° pump that works upside down for awkward area application
Available from various online retailers including https://www.amazon.co.uk
Long Reach Hard Skin Remover
Featuring an extra-long handle, this callus remover allows you to get rid of ugly excess skin without bending or straining. There are two different files; a regular strength one on the outside edge and an extra coarse one on the curved edge. This allows you to vary the amount of exfoliation to treat calluses of different severity. The curved design of this corn remover fits perfectly around the curves of your feet for quick and easy treatment. You'll have soft and beautiful feet in no time with the long reach callus remover!
Available from:
https://www.stressnomore.co.uk
Product code SKU 11689
Customer service team: 01482 496931